Login, reception, interactions and recordings
Login to GeoMod
There are several ways to enter the GeoMod Hopin. One common way is to:
Select GeoMod 2021 from the list of your events
Click "Join Event"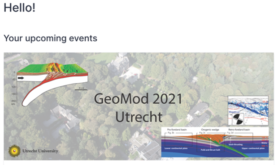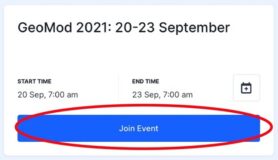 Alternatively, you can enter via the (bookmarked) hyperlink
Click the hyperlink corresponding to today's date in the e-mail your received on September 14.
Click "Enter Event"
Once you join GeoMod live, please switch on "Notifications" at the bell in the right top corner. That allows a soft bell to ring indicating that specific people want to talk to you.
Please also optimize your connection to GeoMod Hopin, as described in these recommended settings. Make sure that the selected web-browser has access to the camera, microphone and screen sharing. You can also give that permission upon sharing your video and audio for the first time. For troubleshooting please see here. We recommend using Google Chrome.
Reception: welcome and overview
Left menu -> Reception
You land in the "Reception" area, which is the "lobby" of GeoMod that provides the overview of the conference centre. To go to what is happening:
Click on the black banner directly below GeoMod's figures that features what is live now.
Click on the different areas in the left column. What is live is indicated by red "now" and "live" tags. Posters are in the "Expo", which are always accessible.
Click on the schedule (scroll down), where you can add items to your calendar.
Click on the red labels on the right top, which indicate that people are trying to reach you through a direct message (envelope) or notification (bell).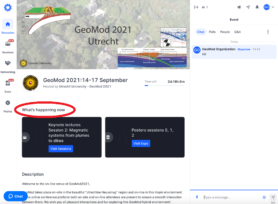 Interactions outside of main schedule
There are different ways to interact with other participants:
Ad-hoc online interaction between participants
Registered participants are listed by under the "People" tab in both menus on the right menu (Left: present in entire Event, Right: present in specific area). You can click on a participant's icon and "Send message", which will introduce a red sign and sound a notification for the receiver.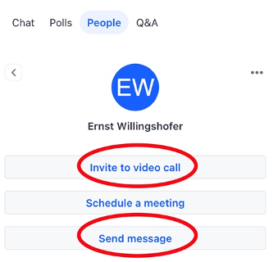 You can also "Invite people to a video call", either a specific person or multiple people. The recipient will receive an invitation in the top-right menu (the paper airplane), which will show a red sign for a new message. Both the receiver and the sender may join an audio-video temporary session by the provided link: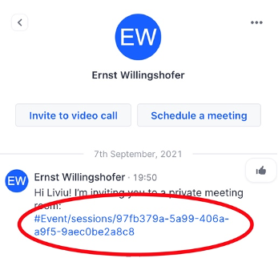 Coffee rooms
We introduced three virtual coffee rooms to facilitate interactions between online and on-site attendees during the coffee breaks and at all other times. On-site these can be found at the three computer screens in the coffee lounge. Online these are open sessions, which are not moderated, such that everyone who comes in automatically shares their audio and video.
During coffee breaks directly following their presentations, we will invite keynote speaker 1 for chats over coffee at coffee room 1. Keynote speaker 2 will be in coffee room number 2. Feel free that ask them anything you did not ask during the Q&A.
Coffee room number 3 is always open for anyone to talk to anyone at any time.
Open sessions
You are free to setup an (open) session under Sessions to discuss a particular topic. People can join this session simply from the Sessions display.
1-on-1 Networking
Left menu -> Networking
Randomly initiates contact with others participants at the event, who are interested to network. If you want to talk to specific people, please send a message or schedule a meeting with them under the "People" tab.
Social event
We scheduled an online social event on Wednesday night using Kahoot!
Replay of recordings
Left Menu -> Replay
Recordings of ended Keynotes and Evening Lectures, which are available until September 23 at 7:00 CEST.
Check out Sessions instructions.