The conference will take place at estate "Sunny hill" in Doorn, the Netherlands. Hotel Landgoed Zonheuvel is situated in the Utrecht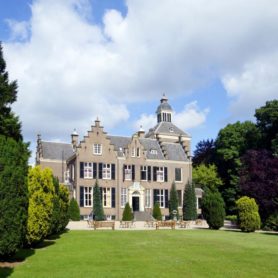 Hill Ridge National Park and provides an inspiring and intimate setting to stimulate scientific discussions and collaborations. Hotel Landgoed Zonheuvel has hotel rooms, a conference centre (castle and coach house), a restaurant, and 45 hectares of woods offering various footpaths for guests. The hotel has its own vegetable garden; and its herbs, vegetables and fruit are used to prepare the menu's and a barbecue.
Adress:
Landgoed Zonheuvel,
Travel to the venue in times of Covid 19:
When planning your travel to the Netherlands please consult the governmental website to gain clarity on entry requirements. Currently face masks are mandatory when traveling with public transport.
To create a safe conference environment, the 1.5 m distancing rule will apply and we advise all attendees to wear face masks when moving around in the venue. Additionally, we will provide self-tests free of charge upon arrival and require a proof (QR-code) of being fully vaccinated, recovered or a negative PCR-test within 36 hours prior to arrival.
Public Transport from Amsterdam Schiphol International Airport to Driebergen-Zeist:
Direct train connections from Amsterdam Schiphol International Airport to your train destination Driebergen-Zeist depart from platform 3 at XX:02 and XX:32 after the hour. You need to take the intercity train in the direction of "Nijmegen". The train ride will take 45 minutes. Connections from other airports in the Netherlands to Driebergen-Zeist train station take up to 1.5 hours.
For those arriving from Europe by train, an option that may be appealing in uncertain covid-19 times, Driebergen-Zeist station is only 10 minutes by train from Utrecht Central station.
On the day of the arrival (September 19) a shuttle service will be installed from the train station of Driebergen-Zeist to the venue between 14:00 and 20:00 hrs. Watch out for the taxi with the GeoMod sign. Arriving earlier or later, or on another day? Please let us know through Geomod2021@uu.nl or call:0031-6 48 64 7882